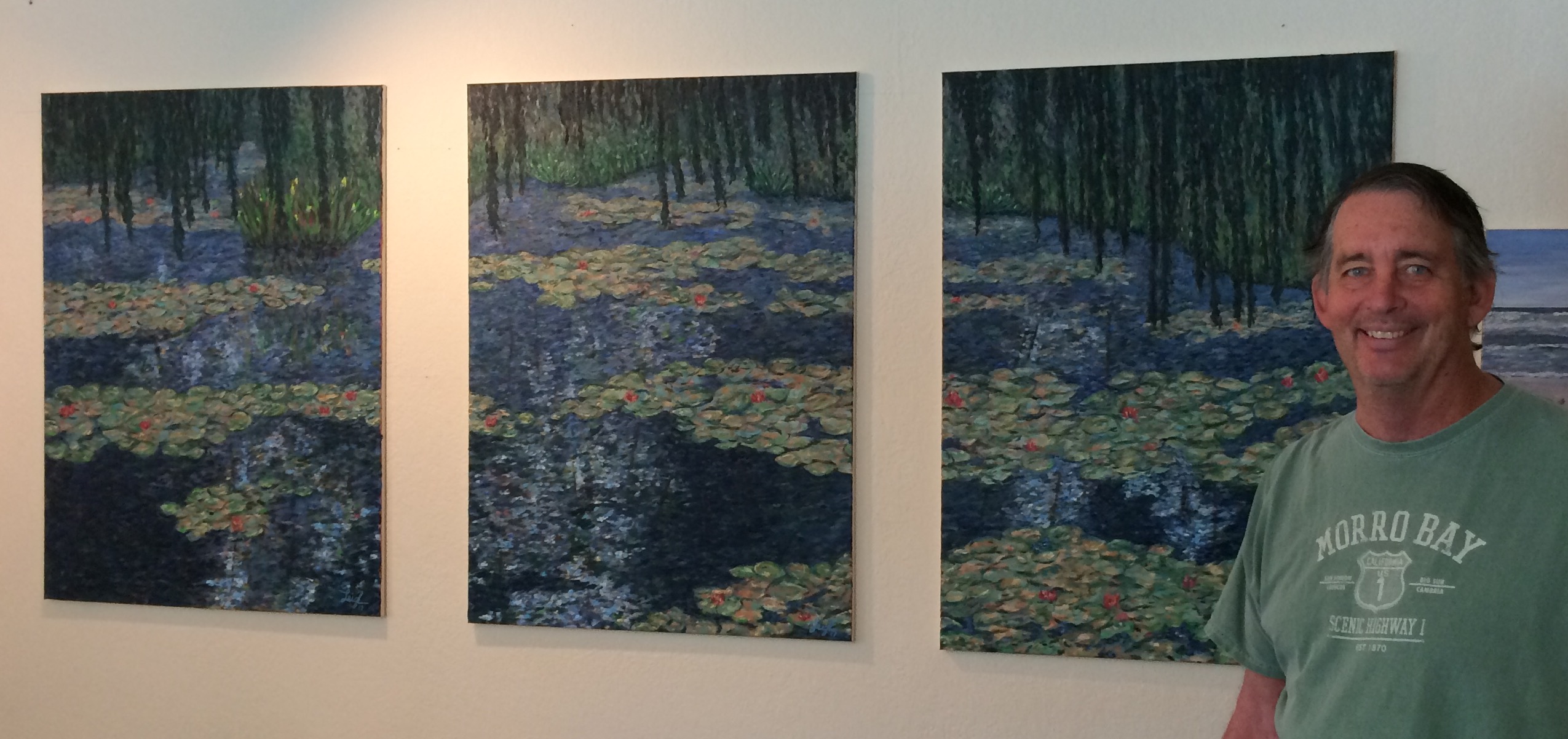 My appreciation for painting came from my family, all of whom have passed away. Although none were accomplished artists, Mom had some talent with oils for a short time, Dad absentmindedly doodled cartoon heads, and my sister, Ellen, had a natural gift for drawing and painting.
Growing up in Chicago, I often visited the Art Institute, and throughout my adult life I traveled extensively, often going to art museums. Like so many others, I was attracted to Impressionism; and, I've spent many hours staring at the brush strokes of the Masters of that period.
My love affair with Impressionism was a fait accompli due to the intimacy I was afforded by a private collection in the home of my aunt and uncle. In their heyday, they owned a Monet landscape and eight-foot wide water lilies, a fabulous Pissarro, Bonnard panels, a Rodin sculpture, and numerous other masterworks including a painting by Picasso and a Rembrandt etching. But for me, it was always the Impressionists. I'd sneak into the living room where my favorites hung and would study them up close when no one was around. Truth be told, I even touched the early Monet, but, only once and ever so delicately.
When I first dabbled with paints as a college student, I gravitated toward landscapes with a style very loosely akin to pointillism. Right then and there, I should have taken lessons but didn't. For the following several years, I painted occasionally, rarely finishing a canvas more than once every two or three years.(See Early Works.)
Ellen died in 1993 when I was 42 years old, and losing her affected me deeply. With a small inheritance she left me, I took my wife and two young sons to London, one of her favorite cities. We viewed a special exhibit of a daVinci sketch, and afterward, I began reflecting on life and death and the many generations that had passed since he lived. I made some sketches for a painting; and, when we returned home, I started on it in my sister's memory. It helped me to grieve, and I spent six months painstakingly applying one stroke of color at a time in a very deliberate manner. I've written about this in depth, but upon completion, I felt ready to throw myself into my art.
Winston Churchill, who was a wonderful hobbyist painter, wrote, "To have reached the age of forty…and then suddenly to find oneself plunged in the middle of a new and intense form of interest…is an astonishing and enriching experience." Like him, I paint for leisure and personal pleasure; and, I took his advice when he wrote, "The first quality that is needed is Audacity. There really is no time for the deliberate approach."
So, I picked up the tempo and started painting more rapidly, allowing brush strokes to touch, blend, and obscure. Still, most of my pictures from that period felt forced and the draftsmanship was seriously lacking.
That problem was helped immensely when I began using a projector to shine photos on my canvases. Suddenly, my drafting was spot on!
These days I paint most days. About 20 of them are on the walls of the Balboa Park Conservancy in San Diego, one hangs outside the mayor's office in Carlsbad, CA (where I live), and they are in offices and homes of professional therapists in the eating disorders field. This website gallery includes paintings that are owned and others that are available. I welcome feedback and invite viewers to contact me about my artwork or if they see an available painting they'd like to have.
     – Leigh Cohn  •  Carlsbad, CA; October, 2018