My Year of Monet #1: Photography and the "21st Century Impressionist"
Photography and the "21st Century Impressionist"
Featuring 6 of Leigh's 2019 Paintings
I've studied Claude Monet since I was a teenager and have paid homage to him with my own water lilies and scenes from his garden in Giverny. For 2019, I have embarked upon a more intensive investigation into his life, techniques, and art — inspired by two exhibitions of his work opening this year in San Francisco and Denver. So, I'm delving into authoritative biographies, his complete catalogue, writings by contemporaries, videos of lectures, academic papers, and Monet's letters and diaries. Throughout the year, I will be blogging about what I'm learning about him and my own journey as an oil painter.
Plein-Air or Studio
I consider myself a "21st century Impressionist," because I use modern technology that wasn't available 100 years ago. Most significant is my use of color photography for source material. I'm strictly an indoor painter.
On the other hand, Monet perpetuated the myth that he only painted plein-air to accurately capture the changing light and atmosphere. In 1897, the journalist Maurice Guillemot reported that Monet worked on fourteen canvases of the Seine from a boat at predawn. He wrote, "an artist painting from nature works only out of doors." (1)

His neighbor, the American Impressionist Lilla Cabot Perry recounted wanting to purchase a picture of Étretat from his studio:
"Monet said he has to do something to the sky before delivering it as the clouds did not quite suit him, and, characteristically, to do this he must wait for a day with as near as possible the same sky and atmosphere, so it was some little time before I (she) could take possession of the picture." (2)

For his various series (e.g., haystacks, Rouen Cathedral, poplar trees), he stayed in the same spot and rotated between canvases. Sometimes he had so many he'd get frustrated trying to find the right one! As the light changed, he painted for a few minutes at a time before switching to a different canvas, and he repeated this process for many days. However, despite the mythology, he usually put the finishing touches on those back in his studio, which he eventually admitted. In 1915, he had an enormous studio built for painting the "Grande Décoration" compositions that dominated the last decade of his life. These extend up to 55 feet long, and a few years ago I had the good fortune to be surrounded by them in the l'Orangerie in Paris.

Photography Provides a Different Approach
Of course, color photography did not exist in Monet's time, although he did have a black and white photo lab in one of his studios (but little known interest in the medium). For some of my earliest paintings, I projected color slides on the canvas to help me sketch it. Digital photography combined with a projector became a game changer.
Frankly, I prefer painting in my studio to braving the elements and shlepping my gear outside. I've painted at the beach on a windy day and between the flying sand and keeping the canvas and materials in one place—it's just not for me! So, instead of sitting in one place and painting, I like to go on photoshoots.
For example, for my Balboa Park Centennial series, I took hundreds of photos before selecting a few, including these: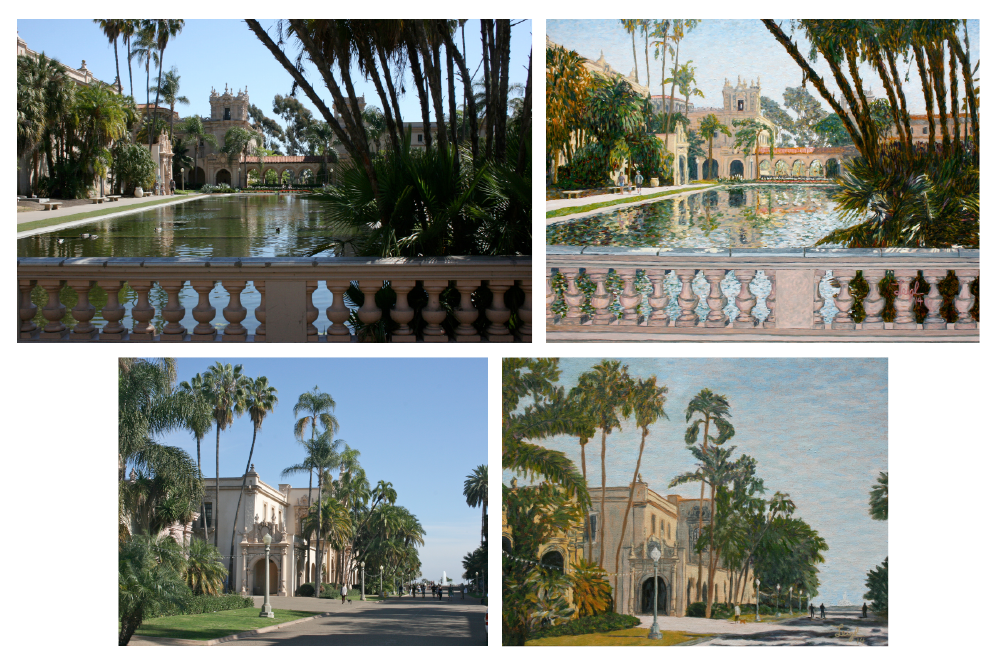 Super Bloom Photoshoot
We had an unusually wet winter in Southern California, and last month I enlisted my buddy, George, to drive me a couple of hours to shoot the flowers in the Anza Borrego Desert. I could describe George in much the same terms that Perry used in her reminiscence of Monet:
This serious, intense man had a most beautiful tenderness and love for children, birds and flowers, and the warmth of nature showed in his wonderful, warm smile, a smile no friend of his can ever forget.
Throughout the day, George told me about his granddaughter, and we took pictures of the Super Bloom, discussed serious topics, and absorbed the desert's beauty and silence.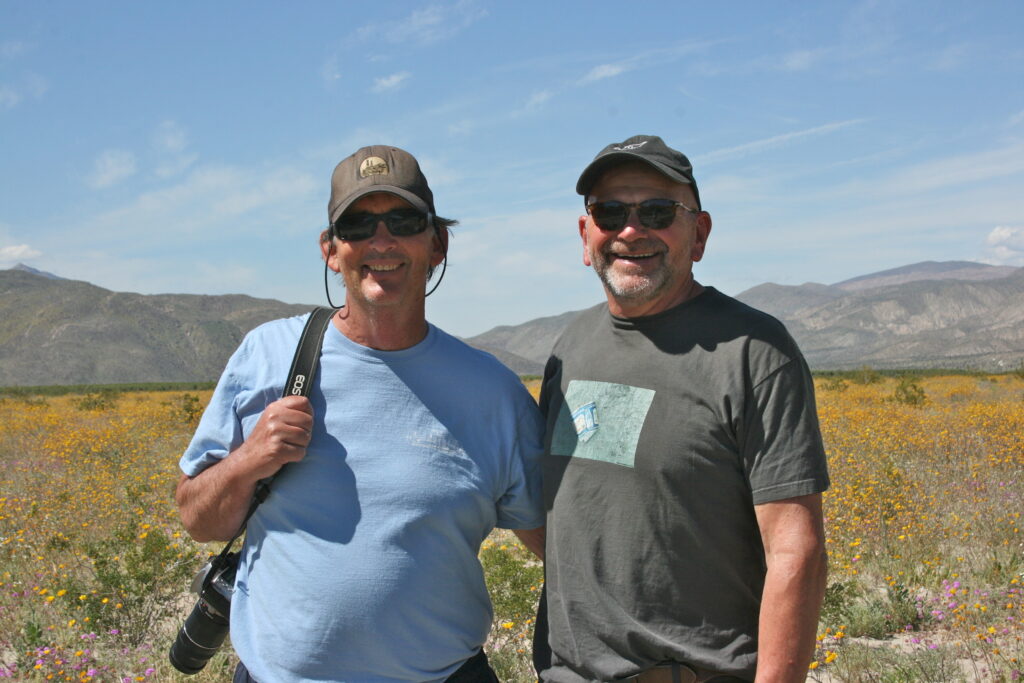 The desert is a hot, dry place, where succulents grow, but rarely lots of flowers. The heavy rains this past winter resulted in a Super Bloom of wildflowers in bright yellows, purples, and white. There weren't any of the bright orange California poppies that were widely shown in the media, but it was still a staggering event of natural brilliance.
After a late lunch, we headed back to Carlsbad and I, again, extended my appreciation to George for chauffeuring me and sharing in the special day. Then, I sorted through 350 photos and narrowed down my choices. Over the next several weeks, I produced these three paintings: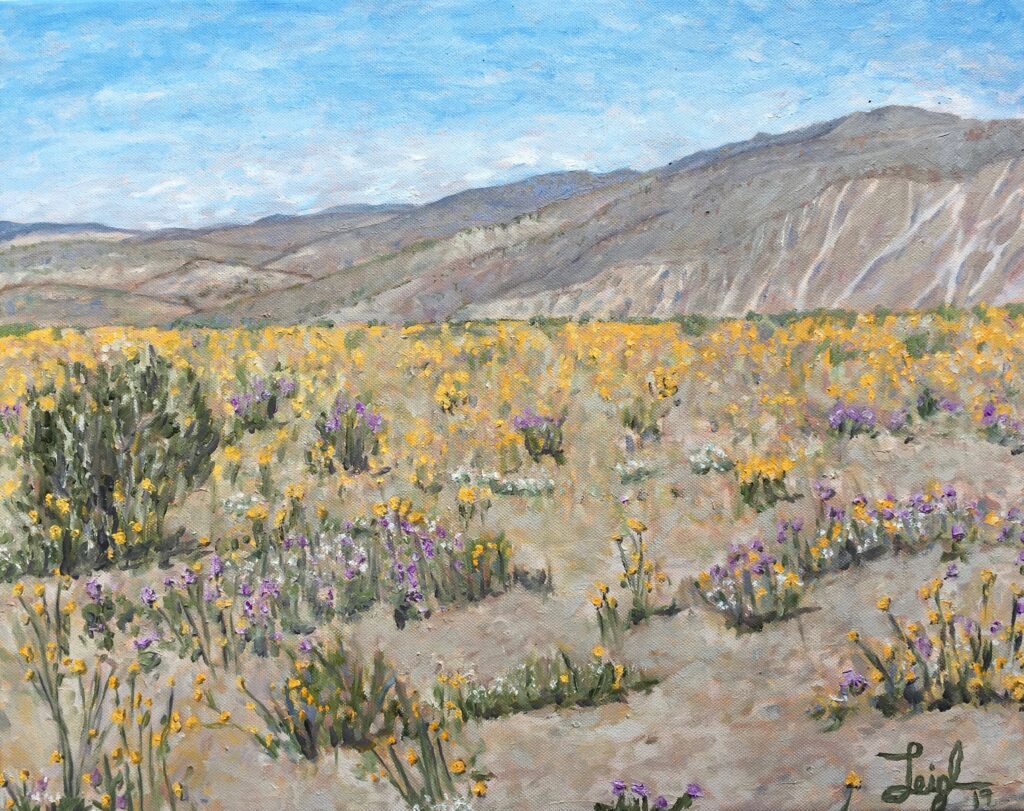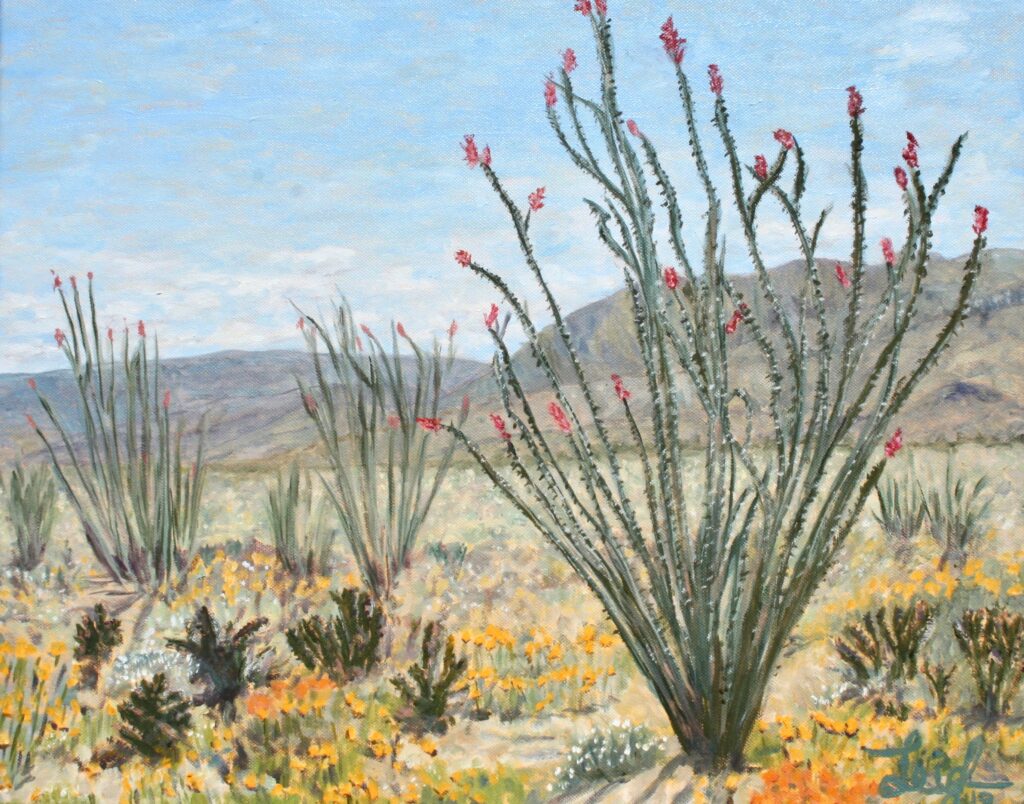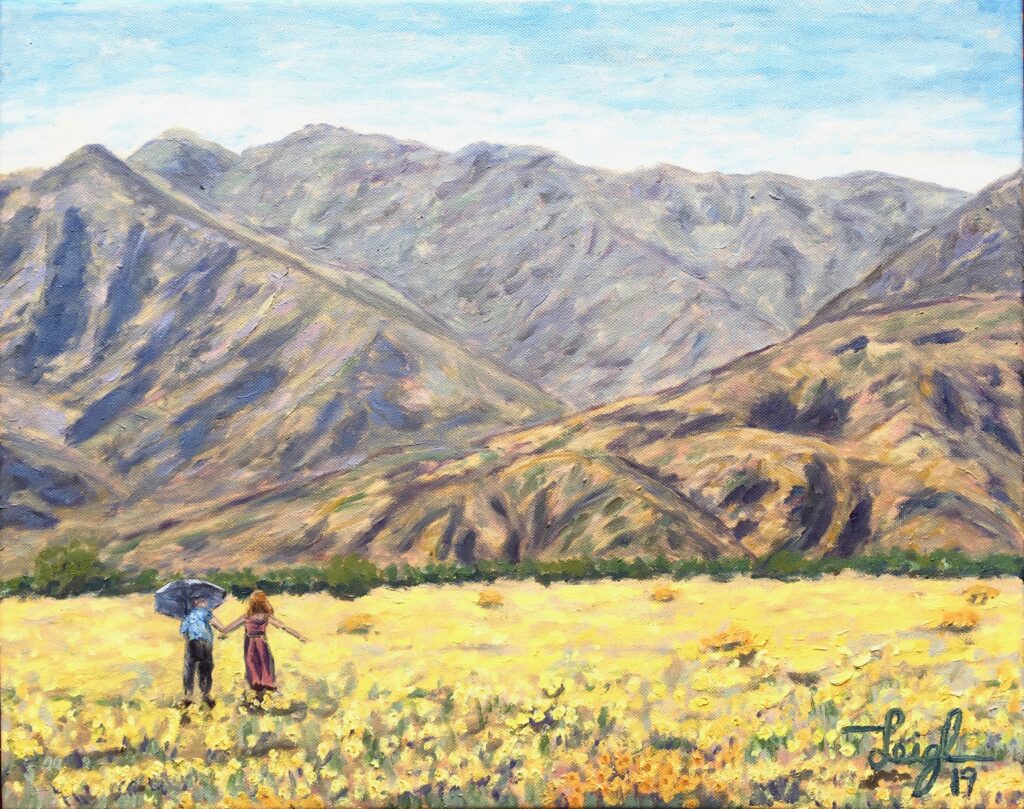 If I used Monet's methods, I'd have camped or found a motel room and returned to the same locations day after day, but I have no interest in setting up an umbrella and painting for hours in the hot desert sun. I'm just too pampered by the convenience of modern times. I make no apologies for that.
Painting the Sea
In 1885, Monet took his second wife, Alice, and their blended family of eight children for a vacation in Étretat on the Normandy coast. After a few days, he sent them home to Giverny and stayed on to paint. According to biographer Daniel Wildenstein:
The cold and rain did not stop him working continuously, outside, in a mysterious staircase, at various windows, and at Saint-Jouin, where he made a rough sketch despite the awful weather. When the sunshine returned, Étretat offered a prospect so complete and so various that (Monet wrote), "to render all that…one would need two hands and hundreds of canvases." (3)
By contrast, I rode my bike to the cliffs above nearby Terramar beach in Carlsbad one morning in January, took several photos with my iPhone, and subsequently, simultaneously painted this trio of pictures with the same color pallet: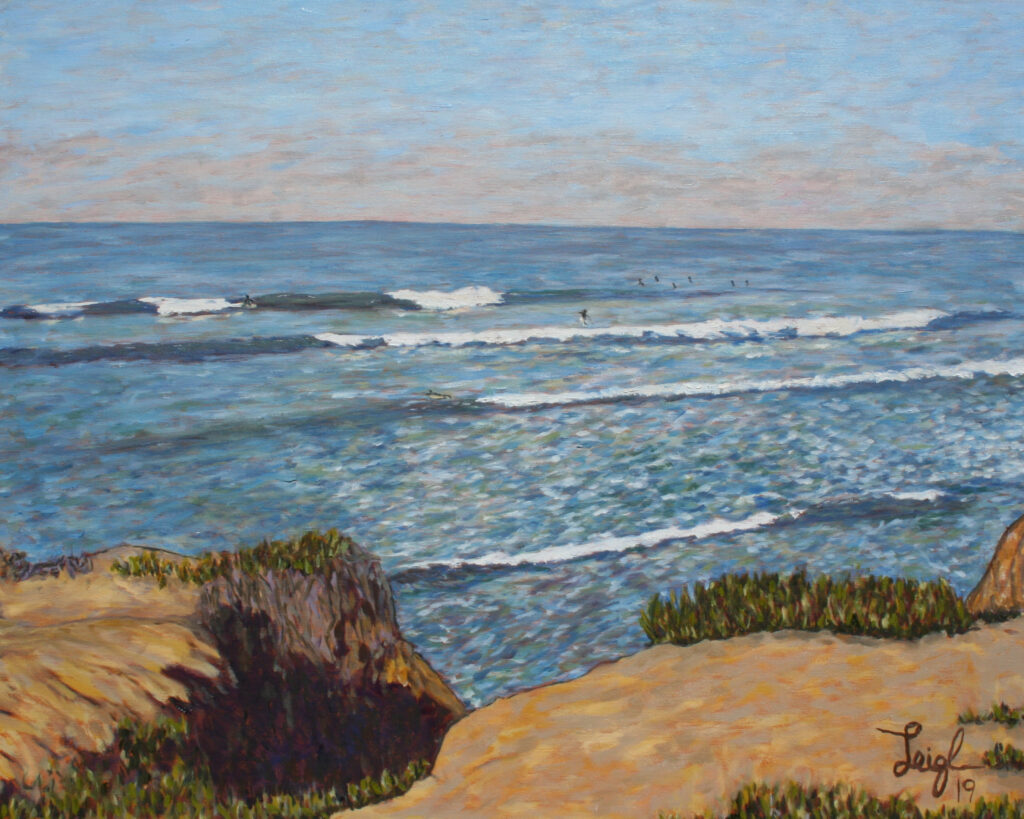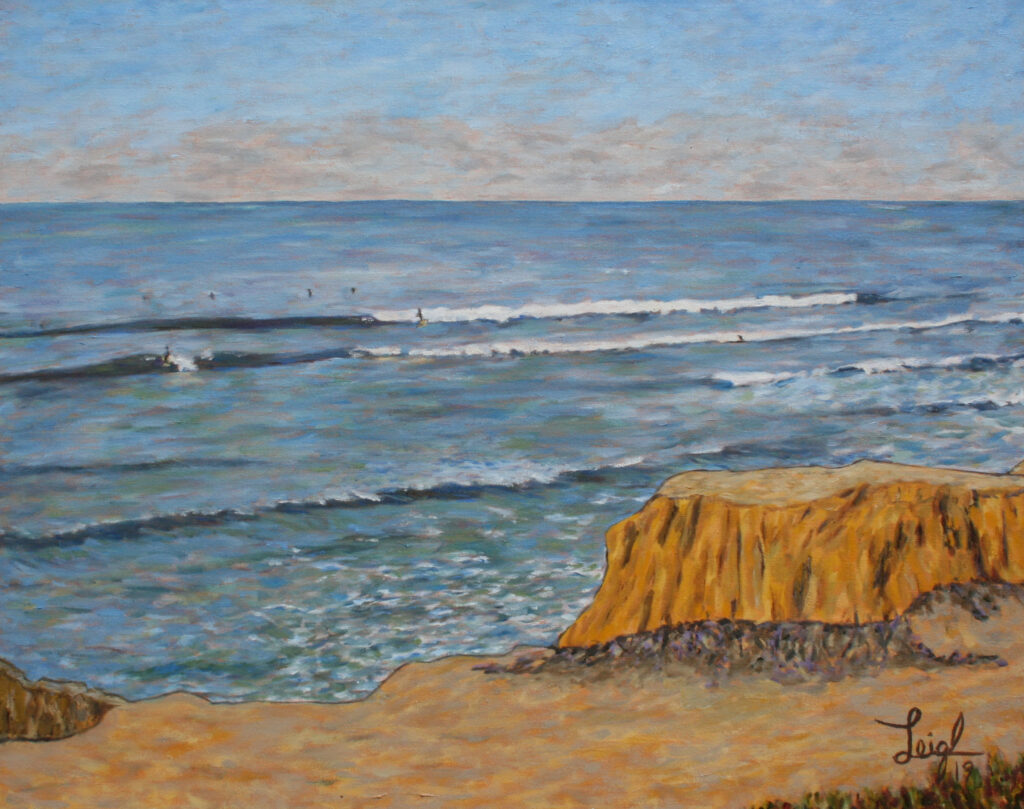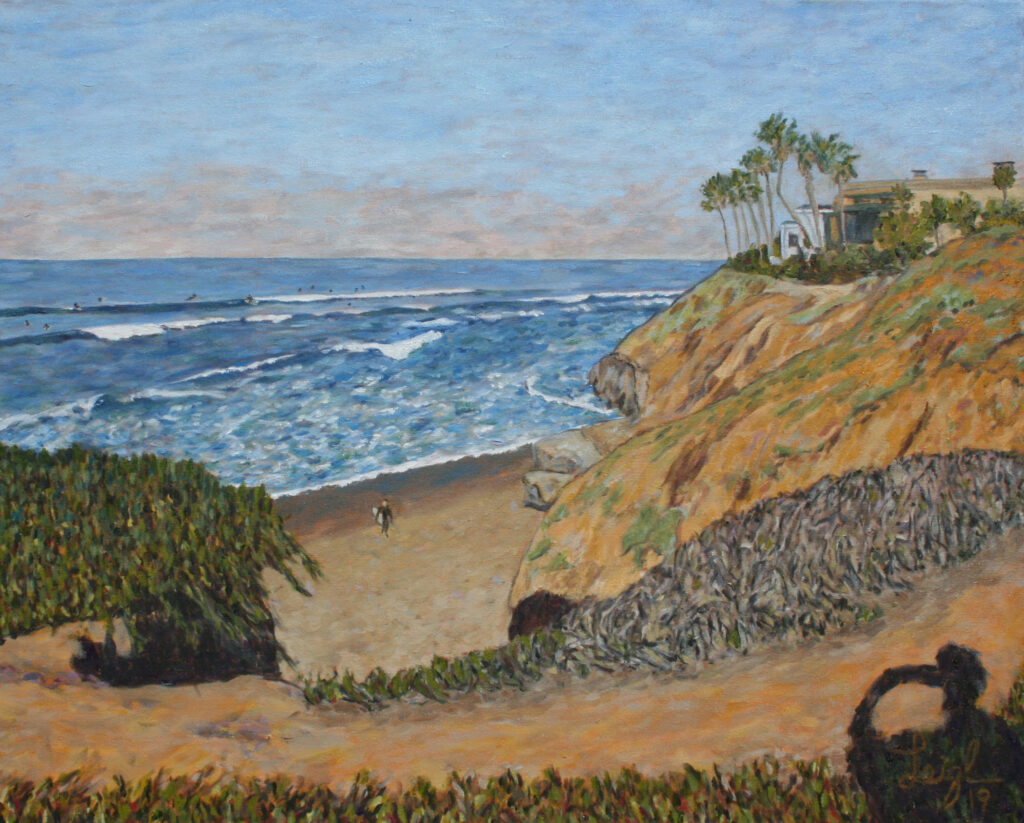 Coming Soon
As I continue studying Monet this year, I will be sharing more of my paintings and reflecting on what I learn. I'll be going to "Monet: The Late Years" in San Francisco later this month, so I'm assuming that those reflections will have to do with water lilies! Stay tuned…
I also expect to offer at least some of these 2019 pictures as Available Paintings in the late Fall.
Please tell your friends about my blog, LeighPaintings.com, and that I will be giving away more paintings. Spread the word on social media!
References
(1) Wildenstein, Daniel, "Monet's Giverny" in Monet's Years at Giverny: Beyond Impressionism, The Metropolitan Museum of Art, ©1978, p. 24.
(2) Perry, Lilla Cabot, "Reminiscences of Claude Monet from 1889 to 1909," The American Magazine of Art, Vol. 18, No. 3 (March, 1927), pp. 119-26.
(3) Wildenstein, Daniel, Monet or The Triumph of Impressionism, Taschen edition, ©1996, p. 208.