Fundraiser Results & Reflections
Exceeded Expectations
The goal of my 2022 "Painting with a Purpose" plan was to raise $10,000 for the Ocean Conservancy. When I announced the project, I explained how the idea came to me; and, here I'll summarize the results. But first, THANK YOU again to everyone who supported this cause.
The campaign focused on 300 subscribers to my LeighPaintings.com updates (probably including you) and consisted of six promotional emails. By simply asking for donations in May and June, we raised more than $8,000. In September, I offered 25 paintings and eventually 13 were distributed. By the end of the year, 52 people had contributed a total of $13,617, exceeding the goal by 36%.
Eleven donors chose to remain anonymous, but I knew almost everyone else. An exception was a San Diego woman I hadn't met who commissioned this eight-foot-wide diptych of terns from a photo she took: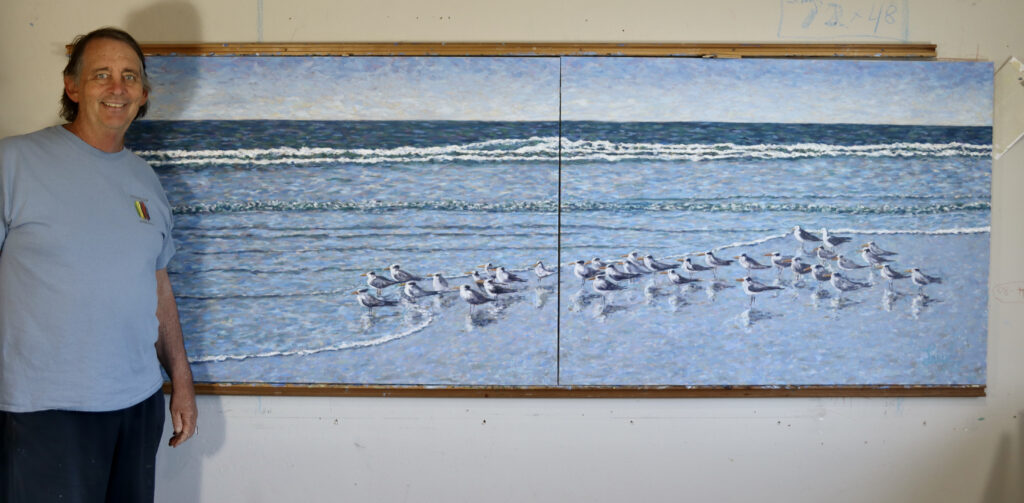 She gave $1,500 to the Ocean Conservancy; but otherwise, the biggest donations came from some of my closest friends, families, and former colleagues. I'd previously given a few paintings to them all, and the constant reminders on their walls probably inspired their generosity. Either that or because they love me.
Overall, I was named "Top Individual Fundraiser" for Ocean Conservancy Peer-to-Peer Fundraising in 2022! Their platform is new and I was one of the first to use it. Although my project is over, I hope the OC expands their peer-to-peer online program to find many artists, musicians, celebrities, and influencers for fundraising. Our total offering is a pittance compared to what individuals with massive numbers of followers could raise.
Putting a Price on Paintings
I've been quite clear about "Why I Give My Paintings Away" for free; so, requesting money—even in the form of donations to the Ocean Conservancy—made me uncomfortable. Whereas, I often quip that my paintings are "priceless," maybe they aren't anymore.

The September offer of 25 paintings included a "suggested" range, and I didn't ask anyone how much they would contribute. The amounts paid ended up being from $100 to $1,500. However, the "prices" seemed to be based more on personal budgets and our relationships than the size or quality of the artwork. For example, the largest composition generated $500 from a young working family, while another—a sixth of the size—brought in the same sum from a retired relative. Three Venice pictures were requested, each with the same dimensions and comparable artistry. The donations for them turned out to be quite varied: $100, $300, and $1,000. Two pictures that were the same size went for $100 (from a collector I've never met) and $500 (from someone I worked with for decades). A few paintings were framed, others weren't—didn't seem to matter.
So, if you have one my approximately 275 paintings in circulation and wonder what it's worth, I really don't know!
Personal Reflections
Despite the project's success, I had mixed feelings about the process. Obviously, I was delighted to raise greater funds for the Ocean Conservancy than I could have afforded on my own. The donors touched me deeply, and I truly appreciated that many contributed due to their love for me rather than the cause.
Although this money may have felt like a "drop in the ocean" it did go towards meaningful programs in 2022. Among the OC's accomplishments were creating partnerships with international indigenous organizations to create the world's largest no-fishing areas, Arctic conservation, and contributing to President Biden's decision to protect an 112,000 square-mile area from industrial threats like bottom trawling, shipping, and oil and gas extraction.
My project was fulfilling on a daily basis by providing me with a worthwhile focus for my creative efforts. I threw myself into painting for a purpose, as well as the administrative aspects of budgeting, blogging, promotion, and coordinating with individuals at the OC. I also enjoyed exchanging calls and correspondences with numerous folks throughout the year. It gave me a great way to connect with lots of people while staying at home. Plus, as a grand finale, Lindsey and I hosted a hilarious slumber party with my buddy Stuart and his twin daughters, who came to Carlsbad in late December to pick up this requested portrait: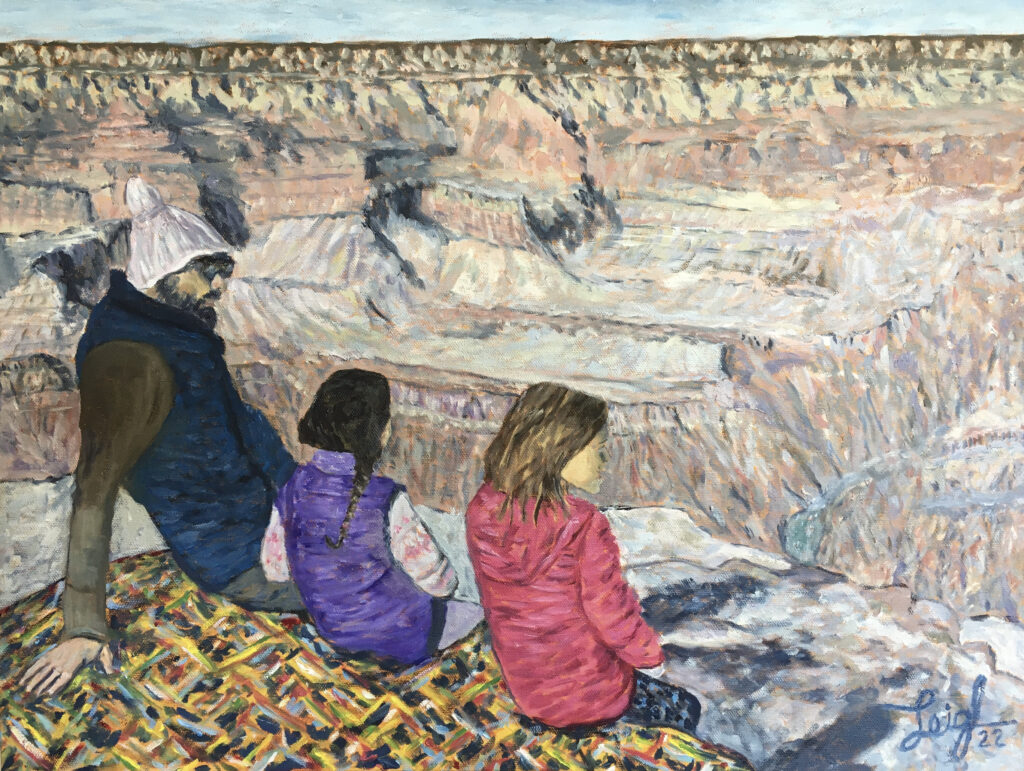 Nevertheless, I don't like soliciting money for any reason—especially for my artwork. I don't expect to take on a fundraising project like this again, but I will still offer paintings to non-profit organizations for their silent auctions, etc. And, I will definitely continue to give paintings away to subscribers for free.
As usual, I have new plans for 2023 and look forward to telling you about them in the springtime.